General info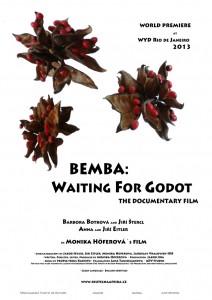 The young Czech volunteers and travellerstell in the documentary film "Bemba: Waiting for Godot" about theier staying in Zambia, neighbouring Congo and about peole from New Renato Community.
The documentary film introduces the current situation in Zambia and the work of the volunteers, but also to focus on solving the "problem of Africa" as started people in New Renato Community.
The documentary film is done for students to enlarge their notion and interest in the third world, a contributing material for faculties concerned with developing help, and last but not least a motivation for young people to do a voluntary work / to be active.
The documentary film wants to show to young people that it is paid to be involved: it will enrich themselves and will help to the others. It wants to demonstrate on a concrete example that if they embark in something and make their own effort, then they can change at least a piece of the world. A sea would become a desert without any individual drop.
TECHNICAL INFORMATION
The Film was made in 2013
41 min.HD, Blu Ray, XD Cam
Czech language, English subtitles, Espanol subtítulos, Po ruski
Directed, Written, Produced by Monika Hoferova
Cinematography by Jakub Sevcik, Jiri Eitler, Monika Hoferova, Jaroslav Vracovsky SDB
Film editing by Monika Hoferova, Jakub Sevcik
Sound Jan Bezouska
Music by people from Kashitu
Production  Jakub Jira
Translation Jana Tauchmanova
ADV studio